Even the smartest individuals and corporations struggle to improve and perform in English as a foreign language.
Including those that invest in language learning.
This tiny test reveals why.
What are the repetitive processes intrinsic to language generation in English as a foreign language (EFL)?
What are the essential components (concepts and actions) of those processes?
How do you use those concepts and actions to engineer Proficiency Acquisition and Development (PAD)?
If you knew the answers to the questions you've just read, you would have clear approach to EFL. In other words, you would be well prepared to experience and do the right things the right way in English.
Discover the story behind PAD Processes.
The PAD Processes training course is brand new. It launched in January 2020 right here on the hugely successful, secure and easily accessible online course platform, Teachable.
PAD Processes is the work of Kirsten Elmes. Kirsten has been an independent English as a foreign language trainer in Italy these past 15 years and recently set up the PAD Processes Academy. Why? Because project after project, Kirsten has consistently enabled people to rapidly acquire the transformational insights and behaviours necessary for taking off in English as a foreign language, using a correct approach to proficiency, its acquisition and development. Now, through Teachable, Kirsten has made it possible for you to access and then implement the fundamental insights and actions for Proficiency Acquisition and Development in EFL, via the PAD Processes online training course. Scroll down to see testimonials from Kirsten's corporate clients, and her website address.
If you're already committed to an English language course provider, what might surprise you is that you still need PAD.
Because the PAD Processes training course is not an English language course.
PAD Processes is not an English language course. It is instruction in EFL Proficiency Acquisition and Development Processes, which language courses are not designed to provide. PAD can substitute a language course. And if you're already doing a language course, PAD Process will increase your return on that investment, and more.
Want to upgrade EFL across your entire organisation?
Now, at the touch of a button, you can. With a PAD roll-out.
With the same PAD course for
beginners through to upper-intermediate individuals.
PAD concepts and actions apply to everyone. For beginners, PAD Processes is available in Italian - Processi per l'Acquisizione e Sviluppo delle Competenze (ASC).
With PAD, no level testing is required. Even better is that PAD Processes training enables learners to understand and describe their own EFL proficiency position (scroll down to see "10 ways PAD Processes graduates outperform").
Student progress is viewed online by your course instructor, who also reads all student comments left by them at the end of each lesson. Students who complete the training earn a PAD Processes certificate.
Where is the value in a PAD Processes certificate?
Certificate holders, at work and/or across personal networks, can freely join together in self-directed, continuous learning and development initiatives. This is outlined in the course.
Are you curious as to what PAD certificate holders could do in your organisation? "Curiosity is the fuel that makes people think at a tangent and come up with new ideas, in an attempt to work differently and thus come up with better results." (Steve Jobs). To see how the value of PAD Processes manifests, do it. Do PAD.
PAD. So compact. So you have time.
3 Modules (scroll down for curriculum)
2 hours' total audio running time
1 25-page Learning Design Pack, complete with 2 audio files, for download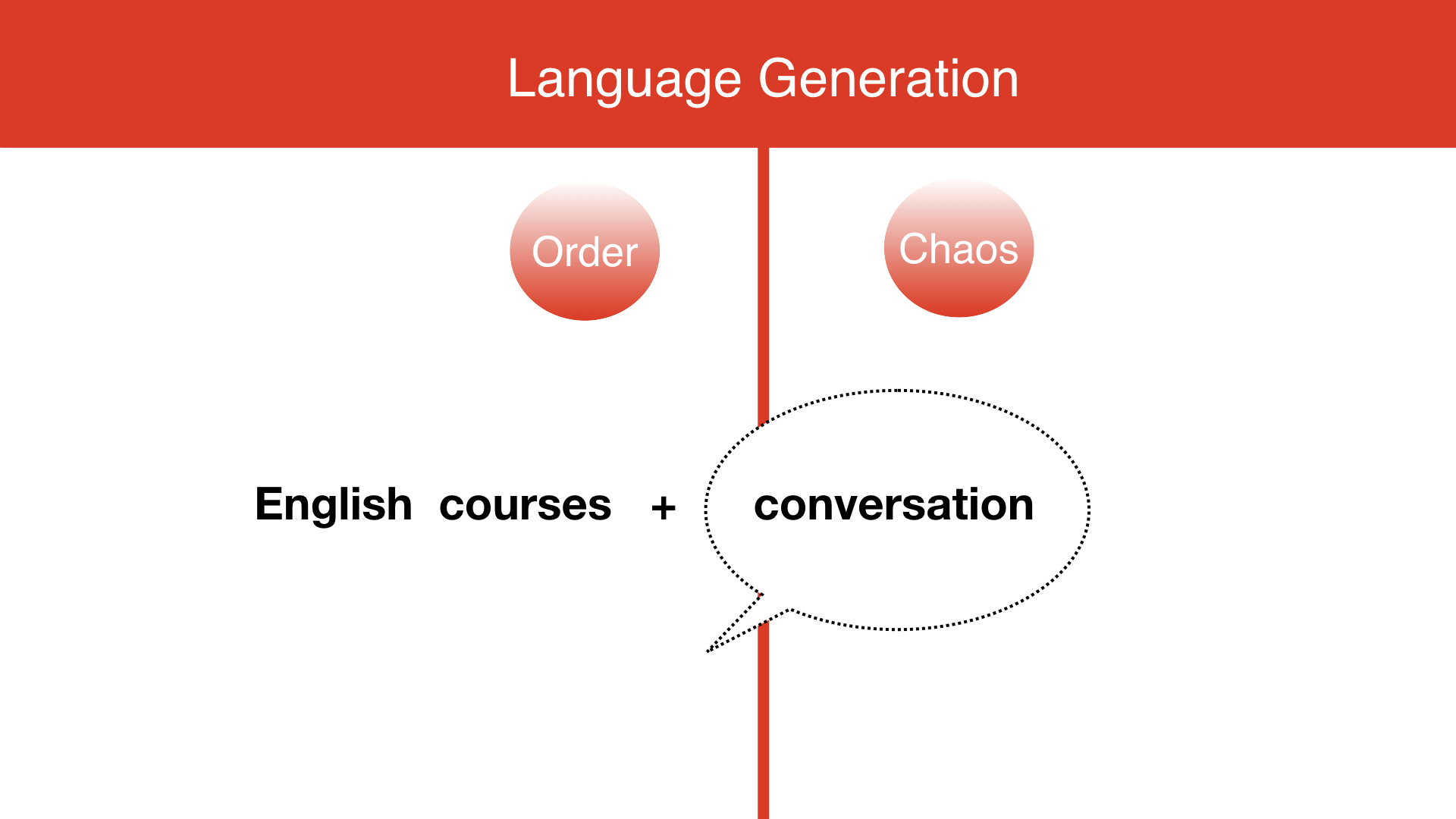 The EFL performance struggle
Training* is absent from structured English as a foreign language teaching environments and conversation classes.
No understanding and integration of the order and chaos aspects of Language Generation** produces a performance struggle, particularly when it comes to speaking English, and also impedes its resolution.
*Trainers enable people to develop behaviours and abilities, over a relatively short period of time
** Language Generation, as defined by renowned linguist Noam Chomsky, consists of fixed laws and principles (order) and a free an infinitely varied aspect (chaos)
PAD Processes breaks Language Generation into 3 inter-connected groups of Proficiency Acquisition and Development (PAD) Processes.
This approach is correct because it addresses and merges the order and chaos elements of Language Generation, enabling students to understand and manage performance struggle.
The entire EFL experience is correctly set (or reset) and transformed.
PAD Processes training is for students of English of all levels and for students participating in structured learning (courses) as well as for autonomous learners.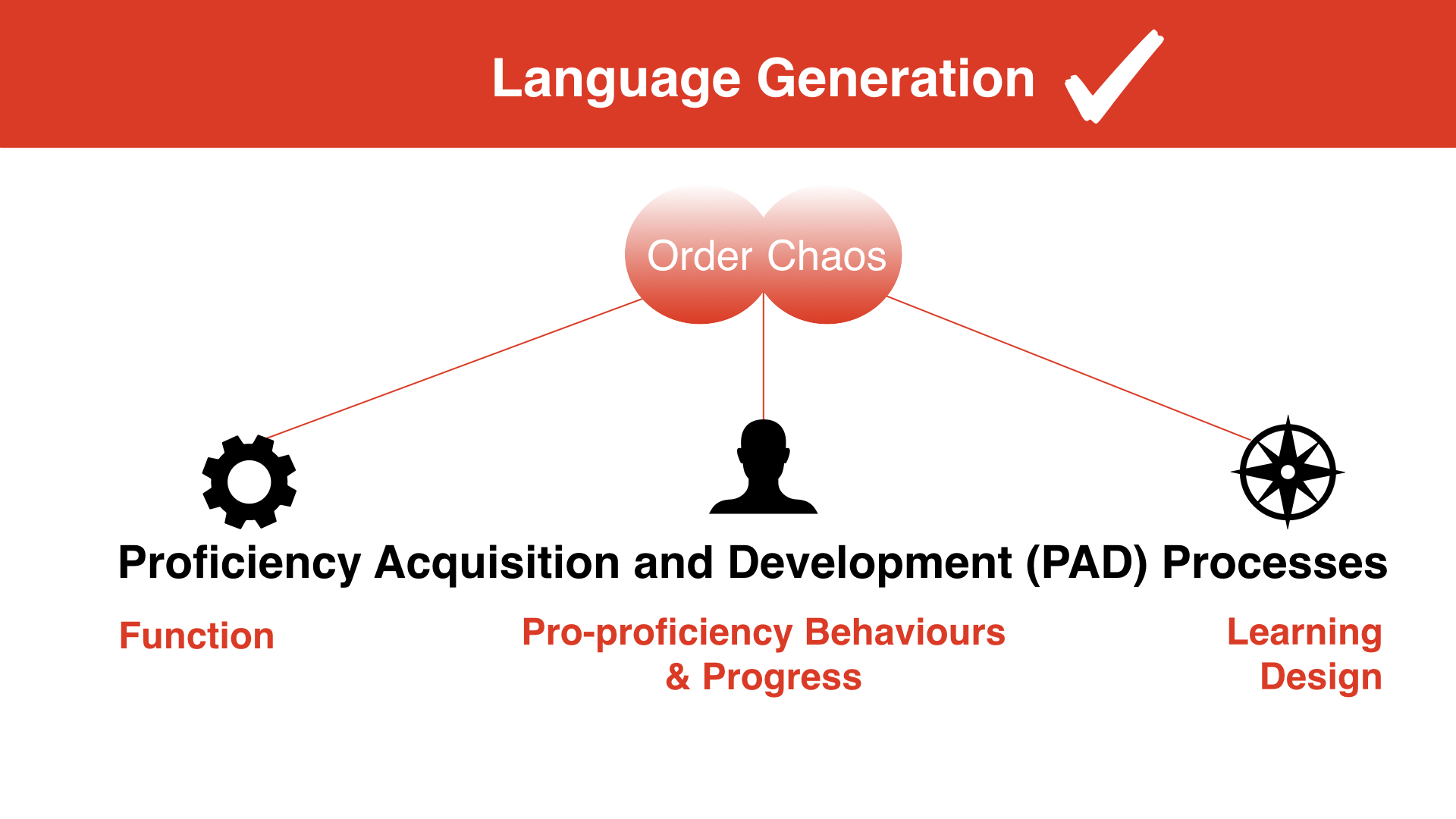 10 ways PAD Processes graduates outperform
Every PAD Processes graduate can:
Understand and clearly describe their current EFL proficiency position
(knows what to do next)
Understand how they function as a learner, managing conscious incompetency
(becomes a better learner per se)
Align themselves with how the English language functions
(instant proficiency upgrade)
Isolate and Integrate key words and sounds
(a catalyst for competency)
Define the 3 groups of PAD Processes in the context of Language Generation
(learning strategy awareness and clarity of vision)
Identify and understand manifestations of proficiency and the Implementation Phase of progress
(does more of the right things, with greater resiliency)
Use Pro-Proficiency Behaviours
(knows how to transition into smoother and more accurate spoken English)
Design and manage self-directed Continuous Learning, with an awareness of processes, patterns and self
(autonomy, equanimity, efficiency and effectiveness)
Engage in collaborative Continuous Learning initiatives with other PAD Processes training graduates
(facilitates spontaneous formation of a learning and development relationships across personal networks and organisations)
Maintain a PAD Processes approach
(learning is retained)
What do corporations say about your PAD Processes course creator?
Sincerely enthusiastic about the results we've achieved. C. Talia, former HR Director, DS Group Spa 
I'm more confident and fluent in my use of English at work. N. Pasotti, General Electric
Kirsten intervenes where necessary, no time wasting. Consorzio Aurora Telecommunications
Kirsten has always demonstrated the utmost professionalism and real determination when it comes to enabling her students to achieve their goals. M. Totaro, HR Director, 3Zero2TV Spa
We're truly satisfied. S. Bertoletti, Director of Human Resources, Rottapharm Spa
Absolutely effective approach and professionalism. M. Carrier Ragazzi, CEO, Maga Animation Studio
We recommend Kirsten to anyone who wants to learn or improve their English quickly. Temar Srl
When does PAD start and finish?
Get instant, full access to the course as soon as you buy. The course is self-paced. Buying the course gives you permanent access to the PAD Processes training course online, across all your devices, for the duration of its lifetime. So, you can go through it again, at any time. You will also have access to any future upgrades.
100% money back guarantee
Your satisfaction and peace of mind are important. If you aren't satisfied with your PAD Processes training course, simply e-mail a money back request to your course instructor within 30 days of purchase to receive a full refund. Teachable, which hosts the PAD Processes Academy online, manages all customer purchases and refund transactions securely.
What to expect after you purchase
Teachable, the platform hosting the PAD Processes Training Academy, will send you a course enrolment confirmation email and another email containing your purchase receipt. Within 8 working hours, your course creator and instructor, Kirsten Elmes, will e-mail you directly, with instructions on how to proceed and remain in touch with her.
Be sure to check your spam mailbox, should you not see any e-mails from Teachable or from Kirsten in your inbox.
Kirsten will, for example, explain enrolment of the recipient/s of the course/s you have purchased, how she monitors students' progress and feedback and course testimonial collection. Kirsten will also tell you everything you need to know about how to distribute your free course coupon/s. Finally, Kirsten will request information from you so that she can create your invoice for you, in accordance with Italian fiscal law. Note that all taxes are already included in the course price.
You can reach Kirsten with any questions at [email protected] or go to www.kirstenelmes.com